Introspection After Earthquake——Heart Can Create Heaven and Hell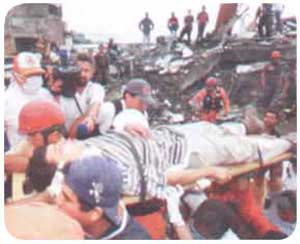 In the evening of Sep. 21st , the strongest earthquake around this one hundred years happened in Taiwan. It also shocked whole the world. The search parties from all over the world came to Taiwan very quickly. Here I am to thank all the members of the parties——Thank you for you're the best children of God and it lets us know God is always watching us at any time in any place. Thank you very much.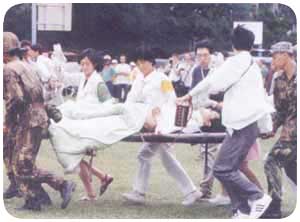 Meanwhile, because of this disaster, Taiwanese is awoken and know how precious it is to be alive. Many brothers and sisters from all over the world donate their salary to help Taiwan to stand up from the disaster. We all see the bright side of humanity. It's quite a long time for us not to see this view——everyone is like one of our families to pass this hard test hand in hand. However, I wonder how long it is to keep this kind of feelings? One month? Two month? What's more, because of the pressure of reality, everyone has to go back the stage of reality. People will chase the power and benefit again. At last, maybe God will use the last cruel method to give human a teaching which we don't want to see to remind us not to go far away from God's road and find way home quickly.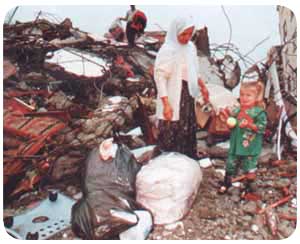 Indeed, this earthquake let Taiwanese know what the hell looks like in this world. The scenes of the earthquake only can be seen in the disaster movie before. However, in the early morning of Sep. 21st, we saw the terrible picture on TV. We want to ask:" why does God play such a big joke with us?" Some people might think: we don't do anything wrong in my whole life. Why do I suffer such a great disaster? It makes me remind of one thing: last year I bought something in Taipei. Someone said there would be a great earthquake in Taipei. The boss of the shop said:" it's impossible. There won't be any earthquake happening in Taipei. I don't believe that." Now the earthquake did happen. I wonder what the boss thought after this earthquake.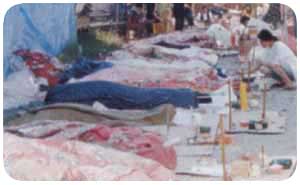 Now we live in the ever-changing world. There is no one and nothing staying forever. This ever-changing world is also made by our illusion. Just like a proverb from Buddhism classics:" The guilty is made from the heart and also disappears from the heart." All the positive and negative power in this world is made by our own. Frankly speaking, everything is made by heart. Your heart can create heaven and hell. Every time we see the pictures from the TV—— wars, diseases and famine are also made from our eyes, ears, noses, tongues and consciousness. These are some examples of "everything is made by heart". I believe you have more example than I and I just talk about what I think through our web site. Whether is correct or not depends on your own judge of your wisdom.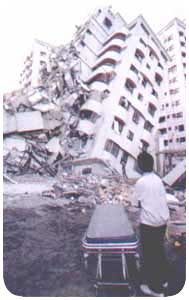 In every corner all over the world, every day we almost have the chance to see the x-rated pictures, posters, magazines or movies. In order to make money, some people use all of these to draw people's attention so what we see, hear, think and do is easily influenced by the negative thoughts. Think about that: if we project such negative ideas in this space to make this space full of "lust" how many people won't be influenced by this kind of atmosphere? And the morality of our children will also degenerate. If we don't provide a very clear and positive environment for next generation, how can our future be better? I remember there's a TV program——someone used his consciousness to bend the spoon. It shows that if you use your idea in wrong place, it'll absolutely influence our life and environment. People who live in such negative space can do the wrong thing easily. Moreover, there're more than billions of people everyday to project the ideas that are not very clear. To sum up, "consciousness" is so important and I truly hope that all human beings can upgrade their spiritual level as soon as possible.

Let's think about this topic——the main course of disaster is "killing lives". It's also the last thing people want to think about but the most important key point. It makes people complain God when they suffer the pain of disasters. When some holidays come or some people get married, there're always a lot of animals killed to be the dishes on the table. When I drive on the highway, I always see the trunks full of the chickens, pigs, cow... It really makes me so sad and unable to concentrate on driving for there is full of the atmosphere of hatred from the animals.

I often go abroad to work. Sometimes I can see the "black energetic particles" in the air in the up side of some cities. They are "negative energetic particles". When killing karma is too much, it will produce the negative power. Sometimes, the airplane will be influenced by it and if there is too much negative power, I can hardly breathe. We can't see the "black energetic particles" by our physical eyes. Some people whose magnetic field is more sensitive can feel it. Some cities with little killing karma will have comfortable and positive energetic particles.

Sometimes we hear some places where many people died injustice or died in the wars, there'll always an uncomfortable atmosphere. One time I went to Japan to visit my friend. She has the ESP and she pointed a stone and said to me:" This stone is different from others." I can't see anything wrong from this stone. At last she told me, when she touched the stone, she got numbed right away. It seemed there are thousands of kilometers pressing on her body and she could see the scene of the disaster from the stone. There're many people losing their lives in the disaster. Finally, I knew that stone was called "lapillus". It was jumped from the volcano when it erupted many years ago. There're a lot of poor ghosts asking for help. The friend was also crying and she asked God to save them as soon as possible one day.

One time I went to Egypt to visit the bottom of the pyramid. I heard that when the pyramid closed, there're a lot of living people buried under the ground for thousands of years and unable to reincarnate. When my friend came down, there're a lot of crying ghosts asking for help. When she came up, she could hardly walk for the heavy negative power on her body. The ones who companied with her also heard the crying of the ghosts. I have a lot of examples like this. Of course, many strange things happen every day in the world. People seem indifferent and use this way to treat others and our surroundings.

Today people can't use the love of brotherhood to treat the animals. Please think about this question——maybe the animals are also scared to die. There is one story: when the Indian chase the animal but fail, they'll give up and stop chasing. They know even if they catch the animal, they can't eat it because when the animal is going to be killed, it'll be very scared——it's just like the earthquake happened to Taiwan. The one who wants to escape must be very nervous and scared. This kind of experience of dying is hardly known by others. So the Indian know the animals will produce a kind of poison when they're being killed. It's also the reason why people who like to eat meat will have more chance to get cancer. Please think this simple question: when animals are going to be killed, won't they be scared? The situation is just like people who want to escape from the earthquake. No matter human or the ones who wear the animal's coats temporarily, all of them are God's children. Animals are like human beings full of the quality of Buddha. The difference is the karma makes them have different figures.

Animals also have the scared heart like us. So when we kill one animal for our appetite, we also produce the negative power in this space. By this way, human beings produce numberless black energetic particles in the air 24 hours. These black energetic particles can't be seen by our physical eyes. However, when they gather together at certain degree and they'll cause the wars and natural disasters. Maybe God makes people and animals exchange the roles and let human beings learn how the animals feel from the disasters and wars. If human beings can't learn the teaching, the wars, natural disasters and famine will happen again and again until we know the cause and effect. This decision is made by us and we're also the director to control whole the play.

Sometimes when I chat with friends, I always mention this topic. Most people know it's good to be a vegetarian and can receive this concept. However, it's impossible for them to practice. They always say: "It's not convenient" or "Let the fate take its course." Do you ever think because of these reasons, how many animals are eaten by us? Sometimes the reason is just the excuse. If this time after the earthquake the one in charge of the construction of the crash building says:" Let fate take its course." Or the governors say:" Let fate take its course." "It's ok to deal with it slowly." I think no one will agree this opinion. So if we say:" Let fate take its course" to face the animals, how many animals will be killed by these words? Why don't we just treat animals like ourselves. If we can't wake up after the earthquake, I think God will arrange some game that you can't imagine to let human experience the misery of animals.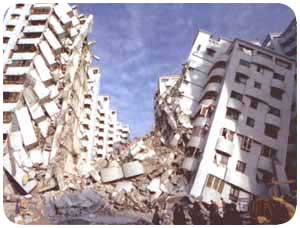 This earthquake was not detected beforehand. That is to say, anything about cause-and-effect can't be detected by modern science. I don't mean to be against the donation of science in this world. I can only say there is another inner world and outer space world unable to be detected by scientific equipments. Everyone has a super science equipment than modern science inside their heart. Of course, we can develop more advance equipment. However, some world can't be seen even with the most advanced telescope and even the most advance UFO can't go inside. This kind of power is given by God in everyone's heart. Only with this power can we go to the incredible world that can't be described by the words. That is also the world we have to discover as we're human beings. We don't just live in this material world.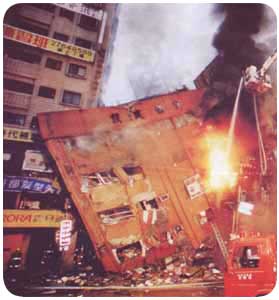 At the beginning of this chapter, I said human beings produce the wars, disasters and famine by their own will. So if you want to cut the trap of reincarnation, you have to cut the "killing karma"——no matter directly or indirectly. Later on, you have to upgrade the inner positive power of your own. Only this way can make you get rid of the trap of reincarnation.

I just provide some of my own opinions. It's nothing to do with religion. It's only the common sense for you to be a human being. No matter you believe cause and effect or not, you have to walk on your road. No one can interfere your chosen way and no one can be responsible for your own karma.